About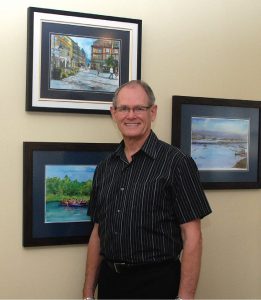 Brian Alexander McMillan was born and raised in Owen Sound, Ontario. As a child he loved to draw, sketch and paint. He was encouraged by his mother and given a book illustrated by television art instructor Jon Gnagy. It is here that Brian really learned an appreciation for perspective, shading and textures.
Brian attended Georgian College of Graphic design for three years graduating with honours in 1978. His accomplished instructors offered encouragement and shared their passion for art with their students. Brian worked as a student artist one summer for RBW graphics completing a children's colouring book "Little People and Pets" and is believed to have been purchased by Whitman. The colouring book featured 96 different pets in situations with children.
Upon graduating Brian was hired by RBW graphics working in various aspects of printing. Set up, film-stripping area, photo retouching and the art department. He worked along side and under the tutelage of artist Dwayne Fenwick. Mr Fenwick is a true master of painting in water-colour. He created "Beaver Home" sketches for Beaver Lumber and Home hardware catalogues.
While at college Brian studied photography as part of his program. He attributes his sense of composition in part to his experience with the camera and his instruction. After one year at RBW Graphics, Brian left the graphics world to pursue his career in policing for the next 8 and 1/2 years. When it became apparent that his background in sketching, photography and interests in identification work would not be met by his job he left his policing career to become an entrepreneur and businessman.
For more than twenty years Brian's passion to create on paper lay deep inside. Work, raising his four children took priority. Brian knew that someday when he was at peace he would do artwork again. In the late-fall of 2001 Brian had a life-changing experience. It was Life-changing, because of an illness that struck him suddenly and caused him to be hospitalized for 5 days. During this downtime Brian made a commitment to GOD and his family slow life down and re-kindle his passion for artwork. Donna and the children bought him paints and supplies for Christmas. Until the fall of 2002 the packages remained un-opened. What if he had forgotten how to paint?
Starting a painting one evening, as his family left for a few hours, they returned to find a painting partially completed. Brian's son Robbie exclaimed, "Dad, I knew you were an artist, but I didn't know you could paint!" Since that evening, through encouragement of friends, family and accomplished artist Novak Plavik (who paints with Robert Bateman) Brian continues to paint in his favourite medium, water-colour. When asked if he paints in other mediums he is heard to reply yes, but not just now. Brian explains that "water colour is a medium that you either get it right or you don't. Being transparent, everything shows both good and bad."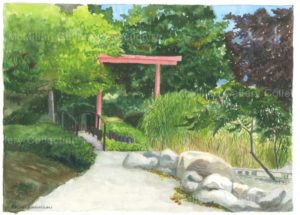 He has been commissioned to do work in Canada and the United states. One of his latest painting, "Friendship Gardens" is featured for the month of July, in the 2008 Rotary of South Georgian Bay calendar. It was painted in the honour of our sister city Katano Japan. The Katano, Japan delegation will be arriving in July 2008. In the fall of 2007 Brian's friend, Dr. David Ripley presented his Japanese host with an "Artist Proof" Limited edition print of "Friendship Gardens" to say thank you for hosting him as part of the delegation that visited Katano.
Brian's themes often depict people, landscapes and water. "Situations happen every day in life and are fun to capture and paint." Brian carries his camera with him most days hoping to capture an idea for a future painting. He shares his talent with family, clients and friends.
If you have a special occasion and you want a special gift give Brian a call. Together you'll be able to come up with something to paint and "create a lasting impression for generations." Brian creates limited edition cards of his paintings and raises money for mission and awareness.
THE ARTWORK OF BRIAN MCMILLAN
"Creating lasting impressions for generations"
Site by Be Visible Web Design